The Club Car® Onward® Dealer in Central Minnesota
Alexandria Golf Cars is pleased to represent the Club Car Onward series. Stop in and check out the New Onward HP Lithium-Ion Golf Car, (maintenance free battery)! Also available are the HP Flooded Lead Acid Onwards, as well as Standard Electric and Gas, (Fuel Injected). They are all available in 2 Pass./4 Pass. and Lifted/Non-Lifted as well as the New 6 Pass. (only available in Gas or HP FLA).
We are a family owned business that takes pride in making sure we give our customers the best experience possible when purchasing a new or a used golf car. We also understand the many different needs and reasonings for purchasing a golf car and we are here to help make that process much easier! All of the new Onwards listed are cars we currently have in stock.
Ordering the car of your choice does NOT cost extra. Hit the link "Build My Club Car" below to configure/customize your new Onward and be ready to make memories on or off the golf course that will last a lifetime! Contact us for expert sales, service and rental for all your golf cart needs. Shop online or call 320-762-1114 for our full inventory.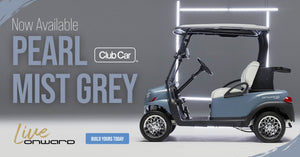 Build My Club Car
In addition to our inventory, you can build your own Club Car with Alexandria Golf Cars. 
Build My Club Car
We are excited to announce we have been awarded Club Car Black & Gold Elite status for 2021.
Golf Cart Sales, Service & Rental
We carry a large selection of new and used golf cars. Whether it's for the lake or the golf course we've got you covered! All of our used golf cars are serviced and inspected to ensure they are ready to go. We're very confident with our products and offer a full 90 day warranty on all of our used golf cars. All of our new golf cars are backed with the manufacturer's warranty.